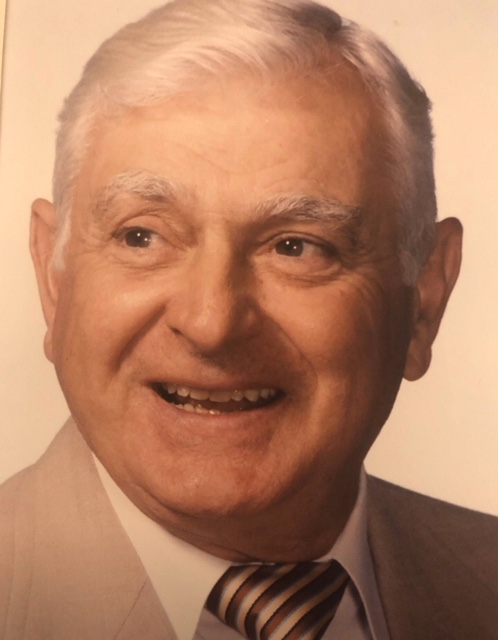 In Memory of
Rosario J. Lombardo
1921 - 2018
Memorial Service
3:00 pm
Saturday, September 29, 2018
Maris Grove Chapel
200 Maris Grove Way
Glen Mills, Pennsylvania, United States

Get Directions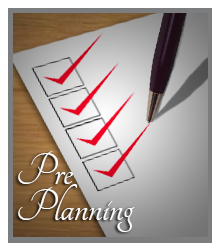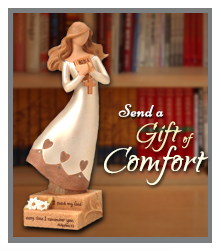 Obituary of Rosario Lombardo
Rosario J. Lombardo
Our beloved dad, Rosario Joseph Lombardo, left us too soon on Friday evening, August 24.
Our Dad was a unique and complex guy: a hard charging DuPont executive who interrupted meetings for phone calls from his daughters. An engineer who loved the Impressionists and took art lessons for over 40 years. A civic leader who served as president of the PTA and Neighborhood Association.
A devoted dad whose phone messages always began, "Hi honey, this is your good old dad" and always ended with "Love you, honey." A wise man whose advice included both the practical, "Make sure there is enough gas in the car" and the spiritual, "Never underestimate the power of love. I have seen tremendous things accomplished through love."
A world traveler and history buff who stood in the Pantheon in Rome and said with awe, "I stood where Caesar stood. Unbelievable!" A diehard Penn State football fan who videotaped and re-watched games for almost 20 years. A golfer with a 10 handicap and an unprecedented record of 6, Hole-in-One shots at DuPont Country Club courses.
A fiercely determined man who in the end stages of his terminal illness, walked laps in the hallway with his walker because, "I have to do my part, right?"
Dad was born October 17, 1921 to Sicilian immigrants, Sebastian and Oliva [Del Monte] Lombardo. The oldest of 5 children in a close-knit Italian family, Dad trained to become a barber in his father's shop in Westerly, RI.
But life had other plans for Dad. He became one of 4 students in his 125-member high school class to attend college, graduating from the University of Rhode Island with a BS degree in Chemical Engineering in 1943. To support himself, Dad played the trumpet in bands, gave haircuts and coordinated shoe repair services out of the local college barbershop.
Denied enlistment in the US Navy because he was "technical," Dad spent WWII at United Aircraft designing propellers for US fighter planes.
Post-war, Dad returned to URI for his MS degree in Chemistry. From there, he went to Penn State University, where three life changing events occurred: Dad got his PhD in Chemical Engineering, married his first wife, Josephine, and became a devoted Penn State football fan.
Along the way, dad built his family, adding a new little girl every two years: Stefanie, Connie and Lisa.
Dad's 35 year DuPont career odyssey began in 1951. He retired as Manager, Manufacturing Services in the C&P Department in 1986.
In 1974, Dad married Florence Thomas and welcomed into his life her daughter, Barbara Preis, and eventually, Barb's children, Candace and Graham.
Dad and Florence moved to the Maris Grove retirement community in 2007. Dad joined the Penn State Club and quickly became President of the Italian American club. He was proud that during his ten-year tenure as President, the club doubled its membership to become the largest social club at Maris Grove.
During his final months in nursing care, Dad surrounded himself with his oil paintings, ate lots of ice cream and enjoyed time with family and friends. He was a favorite with the staff: always smiling, always courteous, always grateful.
Dad remained a devout Catholic and was a member of St. Cornelius Church.
In addition to his beloved daughters, Stefanie Lombardo, Connie Lombardo and Lisa Lombardo (Joseph Nanfara), dad is survived by his wife, Florence T. Lombardo, her daughter, Barbara Preis (Janssen Murray), Barbara's children, Candace Gavidia and Graham Duncan, four siblings – John Lombardo (Sue), Katherine Borelli, Annetta Weaver and Anthony Lombardo – and numerous nieces and nephews.
In 2015, Dad established the Rosario J. Lombardo Scholarship for Female Engineers at the University of Rhode Island. He created the scholarship out of gratitude for the University's pivotal role in his life and because "I'd like to think that somewhere out there, someone was helping my daughters."
Those wishing to celebrate dad's life can support the scholarship fund by mailing donations to the Rosario J. Lombardo Scholarship in Engineering, URI Foundation, PO Box 1700, Kingston, RI 02881.
Graveside service and interment will be private in Pawcatuck, CT. A memorial service in Dad's honor will be held at 3:00pm on Saturday, September 29, 2018 at the Chapel at Maris Grove, 200 Maris Grove Way, Glen Mills, PA 19342.
Share Your Memory of
Rosario
Pagano Funeral Home

3711 Foulk Road
Garnet Valley, Pennsylvania19060
DE: (302) 792-8485
PA: (610) 485-6200

Moreland-Pagano

825 Main Street
Trainer, Pennsylvania 19061
PA: (610) 494-0505

Email Us