Family Oriented

A Room for Youngsters Attending Services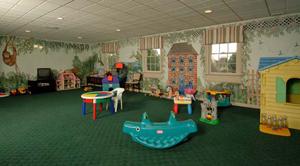 from "American Funeral Director", October 2001
Story by Eric D. Ruggeri
Sometimes the decision of whether or not to take children to a funeral for some grieving families is a difficult one. However those families attending funeral services at the newly opened Pagano Funeral Home in Boothwyn, Delaware county, Pa., can make their decision more easily now thanks to the supervised children's room it has incorporated into its floor plan. The dedicated room is the only one known to funeral homes in the greater Philadelphia area.

According to Peter B. Pagano Jr., the owner and supervisor of the family operated funeral home based where the Pennsylvania and Delaware state lines meet in Southeastern Pennsylvania, he knows how hard it can be for grieving families with young children. "Being a father of four young children, my wife and I understand the difficulties with last minute babysitters at an unexpected time. For this reason, we decided to incorporate the first supervised children's room for a funeral home in this immediate area."

Pagano, 38, was a licensed funeral director in the suburban Philadelphia area since 1983 before branching out on his own in mid-2000 to design and build his own funeral home in the Bethel Township section of Boothwyn, Pennsylvania. Pagano himself acted as general contractor for the job.
Pagano remembers "When I was designing my funeral home, I wanted it to include several important features: the first was including a room where children of all ages could feel comfortable in if they didn't want to be part of the funeral service. I saw the need for it." Pagano says that it wasn't just a way to use up extra space after the funeral home was constructed, it was worked into the overall floor plan from the beginning.
Fearing another funeral home would steal Pagano's idea of having the original children's room in a funeral home for the area, the idea was kept a secret during construction between Pagano and his contractors working the job until its completion. Pagano recalls, "The contractors were sworn to secrecy and advised they would be fired if they leaked information of the room to the public."
Th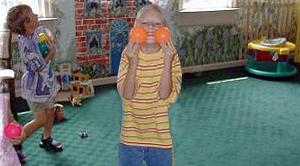 e children's room, which occupies the entire third floor of the new facility, is full of toys, games, and videos for all age groups from infants to young teenagers. There are cribs for infants to sleep in as well. One of the most intriguing points about the children's room is the unique, hand painted murals painted about the walls. A Chester County woman who specializes in interior decorating was sought out by Pagano to create freehand painted murals throughout the funeral home. After originally only being hired to do the main floor of the funeral home itself, Pagano had the woman paint what appear to be images from a child's dreamworld on the children's room walls including airplanes flying, a jungle, wildlife at play, frogs, and grass and vines that appear to be growing in the corners of the room. Pagano's wife Trish supervises the room when it is being utilized for a funeral service noting that it is used for just about every service. When asked about how children enjoy the children's room she replies, "When the parents come upstairs at the end of the service the children usually don't want to leave. In fact, we actually have had children stay here when the service left to go to the cemetery. We considered that a compliment."

For some families, their normal babysiter or relative that normally watches their children may actually want to attend the funeral service for the deceased instead of babysitting. Pagano states, "Our Funeral Home allows families with children of all ages to not worry about their children if they do not want to take active part in the funeral ceremony. Some children may elect to be part of the funeral service for a while, then retire upstairs in the children's room until it is time for their parents to leave." In all situations, it is the family's choice, of course, and we respect that. Access to the children's room is strategically placed off the funeral home's main lobby so if the parents don't wish their children to see the deceased, the don't have to walk through or near the funeral ceremony to access the room.

In late 2000, Pagano held an open house and unveiled the new funeral home and its incorporated children's room. Over 350 people attended the catered event, including many children that were brought by their parents. Pagano reports that the children's room was filled from beginning to end and the families that toured the new facility raved over it.
Pagano believes that as soon as the word of this specialized children's room gets out, other funeral homes in the area will pick up on the idea and run with it. "At least we know we were the first, that's important to us and the families we serve," Pagano said.
When you first walk into our home, we want to make sure that you feel welcome and know that you are special to us. Our spacious yet warm lobby provides an ample area for people to gather. And, the old world family touches say "hospitality" to all who enter.
Whether you have come to make arrangements, to visit with family members or to worship during a funeral or memorial service, our Coffee Lounge is always open to you. Take time to sit, have a cup of coffee and relax for a moment.
Our gathering room is directly off the lobby and the viewing room. It provides a place for family and loved ones to have some time to themselves. The large sofas and the fireplace provide the quiet and comfortable setting needed for a few moments alone.

Our large viewing room is where visitation, viewing and services take place. It is spacious, yet intimate. Sofas and wingback chairs are provided in front of the casket or urn for family.

We all know that this time of grief is difficult for adults. But, for children this time can be overwhelming to say the least. It may be wanted and needed for the kids to be present, but it may be difficult for them to observe the solemnity of the day. That's one of the reasons we created a supervised Children's Room. A child may go upstairs and play, read or watch a video. We also have a rocking chair for parents with infants and toddlers.