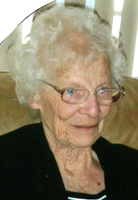 Frances A. McCray
On August 11, 2019, Frances A. McCray age 91 of Boothwyn, PA passed away peacefully.
Fran was born in Chester, PA on February 21,1928 to Bessie and Robert Voshelle, and was the twin of Robert S. Voshelle. She grew up in Chester, PA. She graduated from Chester High School in 1945. Fran was married to William G. McCray (Bill) for 58 years, sadly separated by Bill's death in 2005.
In her early years, Fran worked at the A.H. Wirz Company in Chester and was involved in the Moyamensing Hook & Ladder Ladies Auxiliary. After having her three sons, she became a library aide at Horace Mann School and then the Booker T. Washington School in Chester. She also worked as a crossing guard at 12th and Melrose.
Fran enjoyed spending time with her family, doing counted cross stitch, traveling with her husband with his Army reunion friends and the Retired Oil Workers. Fran and Bill were active members of the Marcus Hook Baptist Church for decades.
In addition to her parents, Fran was preceded in death by her husband William G. McCray, her son Kenneth Robert McCray and her brother Robert S. Voshelle. She is survived by her sons William J. McCray (Shirley) of Swarthmore, PA and Keith Allen McCray (Anne) of Appleton, WI; her daughter-in-law Barbara McCray of Mohrsville, PA, her grandchildren and great grandchildren.
Visitation will be held on Saturday, August 17, 2019 from 8:30 – 10:00 a.m. with a service to follow at 10:00 a.m. at the Pagano Funeral Home, 3711 Foulk Road, Garnet Valley, PA. Burial will follow at Lawn Croft Cemetery in Linwood, PA.