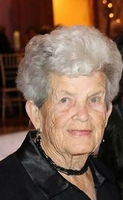 Delores M. "Dee" DeAugustine
Delores M. (nee Embert) Silvestri DeAugustine, 88, passed away Thursday August 1st at The Residence at Glen Riddle in Media, PA.
"Dee" was born in Chester, PA and raised in Eddystone, PA. She previously lived in Brookhaven, PA, Eatonville, WA, Lancaster County, PA, and most recently in Garnet Valley, PA.
After graduating from Eddystone High School, she attended and graduated from Chester Hospital School of Nursing. As a Registered Nurse, her career began as a private practice nurse, OBGYN specialty, Director of Nursing at Bishop Nursing Home in Media, PA, School Nurse in the Solanco School District, and lastly a traveling nurse with her husband, Dr. Vince DeAugustine, helping the Amish families in need in Lancaster County, never charging for services, medicine, or supplies. Always helping others, she loved doing errands, favors, and aiding her neighbors and friends.
Dee was involved in many organizations over the years, as a volunteer and a leader such as Brookhaven Jets Football, Girl Scout Leader, Parents Association, and Chester Hospital Nurses Alumni Assoc, to name a few. A member of Concord Baptist Church, she was very active until her health prohibited her from attending Services. She especially enjoyed volunteering with the children in the AWANA program and Summer Bible School.
She enjoyed traveling, especially cruising with her favorite travel buddy, grandson Joey. They always said goodbye to each other with the phrase "I Love You Most".
Dee will be remembered by her loving family and friends for her beautiful embroidery work, her passion for the color purple, and her devotion to God. Although she was very direct, she always had a positive and upbeat outlook on life, and was always graciously thankful.
The family would like to sincerely thank The Staff at The Residence at Glen Riddle and Willow Tree Hospice for the amazing love and care that Dee received during her last year on earth. It made a world of difference in her life.
She was predeceased by her parents, Rose (McElwee) and James Embert: her sister, Lois Leonard, and her brothers, James and Robert Embert, and her husband, Dr. Vincent P. DeAugustine.
She is survived by her children, Joseph F. Silvestri of Trainer,PA; Donna Silvestri Fecondo of Garnet Valley, PA; Vincent P. DeAugustine, Jr. (Annie) of Auburn, WA; Peter DeAugustine (Susan) of Eatonville, WA; Dr. Carlo DeAugustine (Pat) of Lancaster County, PA; grandchildren, Joseph E. Silvestri (Amber) of Garnet Valley, PA; Tony, Cathy, Brea, Marisa, and Zach; great- grandchildren, Brittani, Alicia, Damon, Lily, great-great grandchildren, Brycen and Oliver.
A visitation will be held on Saturday August 10th - 9:00 to10:00AM at Pagano Funeral Home, 3711 Foulk Road Garnet Valley, PA, followed by a Memorial Service at 10AM. Interment, Lawn Croft Cemetery, Linwood, PA. In lieu of flowers, donations in her memory may be sent to Willow Tree Hospice, 616 East Cypress Street, Kennett Square, PA 19060.