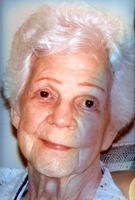 Barbara H. Jardine
Barbara Martin Jardine
July 14, 1923 –March 12, 2019
It is with great sadness the family of Barbara Helen Martin Jardine announces her passing. However, Barbara's family knows she is now happy and at peace in the presence of her Lord and Savior, Jesus Christ.
Born in Linwood, PA, the fifth of six daughters of Cordelia and Raymond Martin, Barbara attended Linwood Elementary School and Chester High School. Primarily a homemaker during the forty years she lived in Upland, Barbara was also employed by several businesses and, in 1988, retired from Crozer-Chester Medical Center.
Barbara was a devoted reader of the Bible and was a former member of North Chester Baptist Church.
Barbara will be lovingly remembered by her children; Carl (Valerie) Jardine of Keedysville, MD; Cynthia Howry of Hagerstown, MD; Joseph (Inese) Jardine of Bernville, PA and Nancy (Russell) Humes of Mohrsville, PA.; sister, Diana Poole of Media; brother-in law Harvey Lehman; nine grandchildren; twelve great-grandchildren and numerous nieces and nephews.
Barbara was pre-deceased by her parents; sisters Phyllis Martin, Gretchen Richardson, Iris Riley and Neva Lehman; grandson Stephen M. Howry and ex-husband Joseph C. Jardine.
Visitation will be held Friday, March 15 from 10:00 – 11:00 A.M. Funeral service will follow at 11:00 A.M. Interment will follow at Lawn Croft Cemetery.
In lieu of flowers please send donations in Barbara's name to: American Bible Society, 101 North Independence Mall East, 8th Floor, Philadelphia, PA 19106.