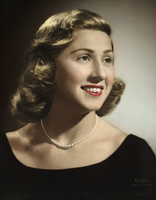 Irene Lucille Pileski
Irene Pileski, 92, of Media, Pennsylvania, passed away March 2, 2019 at her residence at Lima Estates.
Raised in Eddystone and later residing in Bethel Township, Irene was a lifelong Delaware County resident. After graduating from Penn State in 1949 with a degree in Education, Irene taught social studies to generations of middle school students in Eddystone and later Ridley School District during her decades of service in public education. Irene also coached basketball and taught swimming.
Irene was preceded in death by her parents, Stanley and Mary Pileski, brother Henry Pileski, sisters Viola Gaskell and Josephine Lawrence, great-nephew Thomas Inge Jr, and great-niece Judith Inge. She is survived by her friend B. Lorraine Martin of Media, PA, nieces Judith Gaskell and Joan Inge of Sussex County, DE and Marian Peleski of Newark, DE, nephews Robert Gaskell of Fenwick Island, DE and John S. Lawrence of Kemblesville, PA, great-nephew John A. Lawrence of West Grove, PA, great-niece Elizabeth Lawrence of Kemblesville, PA, and two great-grand nieces. Services will be private. Burial will be at Edgewood Memorial Park, Glen Mills, PA. In lieu of flowers, contributions may be made to Upland Baptist Church Food Pantry, 325 Main Street, Upland, PA 19015.