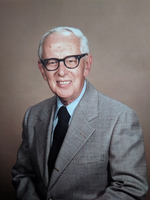 Frederick H. Light
Frederick Haak Light, 104, of Lansdowne and Glen Mills, PA, died on February 1, 2019. He was born in Lebanon PA, January 25, 1915 to the late Philip and Cora (Haak) Light.
Fred graduated from Lebanon High School and from Penn State in 1936 with a master's degree in mechanical engineering. He worked as an engineer for the Philadelphia Electric Company for 46 years, retiring in 1982. A member of the American Society of Mechanical Engineering since 1954, he was honored for his engineering accomplishments and received the Performance Test Code Medal in 1990.
Fred loved to be outdoors working in his garden, fishing and playing bridge, which he did into his nineties. He also enjoyed woodworking and his family received many hand made chests of drawers, cabinets and clocks. His great grandchildren play with the toys he made. Fred was a prolific reader and spent many hours reading by the fire or on the screened porch, where he could watch the birds and smoke his pipe. His family fondly remembers vacations camping, hiking in the woods and eating his "campfire chili". One of his most memorable trips was a 1932 cross-country road trip in a Model T Ford.
Fred was an active member of First Presbyterian Church of Lansdowne, PA, from 1935 to the present. He loved his family immensely. His amiable temperament, graciousness, and strong morals him wonderful father and husband. He was man of outstanding character, and will be missed.
Fred was preceded in death by his first wife of 50 years, Margaret Robinson Light. He is survived by three children, Dr. Wilma Light of Ligonier, PA, Frederick H. Light, Jr. (husband of Maureen Light), of Lebanon, PA, and M. Susan Durgin (wife of Philip Durgin), of Mechanicsburg, PA, seven grandchildren and two great grandchildren. Fred is also survived by his second wife of 24 years, Margaret Hurlburt Light. He was loved and respected by his step sons Lawrence Hurlburt (husband of Linda), of Jim Thorpe, PA, and Clayton Hurlburt of Clifton Heights, PA, two step grandchildren and two step great grandchildren.
A memorial service will be held at the First Presbyterian Church of Lansdowne, 140 N. Lansdowne Avenue, Lansdowne, PA on Saturday, February 16, 2019. Friends may call at 10:00 am; the memorial service is at 11:00 am. In lieu of flowers, contributions may be made in Fred's honor to the First Presbyterian Church of Lansdowne, PO Box 277, Lansdowne, PA 19050, or the Lansdowne Public Library, 55 S. Lansdowne Ave, Lansdowne, PA, 19050. Please include Fred's name in the memo line of your check.