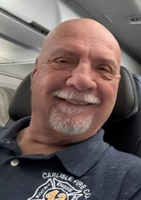 Earl T. Briel
Earl T. Briel, age 72 of Milford, DE passed away on May 20, 2023 at Paoli Memorial Hospital, Paoli, PA. Born October 21, 1950 to Earl M. and Stephanie Choromanski Briel in Trenton, NJ, he resided in Hamilton, NJ for many years. After high school, he attended Villanova and has been an avid fan of the Wildcats ever since.
He volunteered at DeCou & Rusling in Hamilton Township, NJ as an EMT and fireman. He and other EMS colleagues took scuba lessons and formed a search & rescue team for underwater retrieval. In addition, he was a part time police officer for 25 years for Hamilton Township, Mercer County, NJ.
Earl was Exalted Ruler of the Elks Lodge #2085 in Bordentown, NJ, and NJ Elks State Vice President. Earl moved to DE in 2006 where he became Exalted Ruler at Elks Lodge #2401, in Milford from 2012-14. Ever since his move to DE, Earl has been a Volunteer Fireman for Carlisle/Milford Fire Co. Kent County, DE, and employed as an EMT with the Harrington Fire Company. Altogether, he spent 52 years in public service, an incredible record. He has saved countless lives and has been a hero to many. He worked at NASCAR races over the years, assisting as fireman and paramedic. One of Earl's favorite pastimes was line-dancing. He loved listening and dancing to country & rock 'n roll. Earl loved to travel and also enjoyed spending free time at his campground near Coatesville, PA. Most of all, he loved people and especially his family.
Earl is survived by his fiancée, Linda P. Abrams; sister, JoAnn (Chris) DeLay; nieces and nephews, Christopher DeLay Jr., Nicholas R. (Bridget) DeLay, and Amy (John) Oldham; great niece, Chloe DeLay, and great nephew, John T. Oldham; stepchildren, Andrea (Scott) Brooks, Laura (Andrew) Farach, Vickie (Jon) Aunet and Valerie (Jerry Jr.) Aunet; 9 grandchildren and 4 great grandchildren.
A visitation will be held on Wednesday, 9:00-10:00AM at Carlisle Fire Company, 615 NW Front St, Milford, DE followed by a funeral service at 10:00AM. Interment, Siloam United Methodist Church Cemetery, Bethel Township, PA. Donations in Earl's name may be made to the Elks Lodge #2401, 18951 Elks Lodge Rd, Milford, DE 19963; Carlisle Fire Co, 615 NW Front St, Milford, DE 19963; Harrington Fire Company, 20 Clark St, Harrington, DE 19952. For online condolences, visit: www.paganofuneralhome.com.