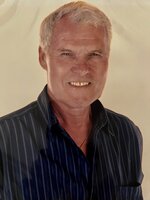 Vincent August Funcich
Vincent "Vince" August Funcich passed away on May 15th at the age of 86, surrounded by his adoring family in Wilmington, Delaware.
The son of Krsto and Stose Funcich, Vince was born on April 1, 1937 on the Dalmatian island of Ugjlan, in Croatia. Vince's most cherished childhood memories were filled with fishing on the Adriatic, learning about carpentry from his father and playing futbol (soccer). Despite losing his father at the young age of 8 and going on to face several hardships at the hands of a war struck country, Vince quickly grew to become a resilient young man and pillar of strength for his family.
Vince served two years in the army before becoming a merchant marine. Vince eventually moved to New York City. Shortly thereafter, where he went on a blind date that forever changed his life, and met his loving wife, Christina. Vince and Christina wed in 1966 and went on to have two daughters, Vilma and Anita. Vince and Christina eventually moved their family to Wilmington, Delaware, where Vince pursued a long career at Dupont as a master carpenter and locksmith.
Among his family, Vince was known as a man who had tremendous strength, endless compassion for others, a stubborn will for things to be done correctly, a love for the ocean, fishing, swimming, a passion for winemaking and several other different hobbies. He had a profound commitment to always making sure his family was taken care of. Vince was a loving husband, adoring father, and a doting grandfather who will be deeply missed by his family, but who his spirit will run through forever.
In addition to his parents, Vincent is preceded in death by 3 siblings; brothers, Vilim Funcich and Vlado Funcich, and sister Vilma Sarovic. Vince is survived by his wife, Christina, daughters, Vilma (James) Andrews and Anita (James) Davis, grandchildren; Erica (Peter) Sanders, Jimmy Andrews, Samantha and Sydney Davis, his brother Nenad (Angela) Funcich and his dearest cousin Armond (Gordona) Fatovic.
A visitation for Vincent will be held on Friday, June 2nd from 10-11AM at the Pagano Funeral Home, 3711 Foulk Rd, Garnet Valley, PA followed by a memorial service at 11AM. Interment wiil be private. Donations in Vincent's name may be made to Delaware Hospice (delawarehospice.org/donate). Online condolences may be made by visiting www.paganofuneralhome.com.