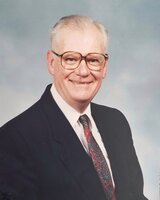 David Martin Gosling Lawrey
David Martin Gosling Lawrey, 91, of West Chester, Pennsylvania passed away peacefully on March 3, 2023 at The Wellington at Hershey's Mill. Visitation, funeral service, and burial will be held at St. John's Episcopal Church, Glen Mills, Pennsylvania on May 19th beginning at 9:30 a.m. Pagano Funeral Home will be handling the funeral arrangements.
David was born in London, England to Paymaster Commander Martin Lawrey (Royal Navy) and Emily Elizabeth Gilbert Gosling Lawrey on May 11, 1931. His early years were spent between England, Singapore, and Bermuda where in 1947 he graduated from Saltus Grammar School. In 1951 he earned a Bachelor of Science in chemistry at Trinity University in San Antonio, Texas followed by graduate studies at the University of Chicago. He served in the US Army and worked for nearly 35 years in the Analytical Department of Sun Oil Company in Marcus Hook, Pennsylvania. David was an active member of ASTM International Committee D2 on Petroleum Products and Lubricants where he received numerous awards for his service. Over the years he was very active at St. John's Episcopal Church and in his grandchildren's activities.
David is preceded in death by his wife Dolores of 59 years and his brother John. He is survived by his son Steven of Havertown, Pennsylvania and his wife Connie and their children Benjamin and Daniel; his son Bruce of Seattle, Washington and his wife Claudia; his sister Elissa Rice and brother James O. Grasley both of Oklahoma City, OK. The family extends its gratitude to Sandra Reynolds of Angel Companions and the fine and caring staff at The Wellington at Hershey's Mill. In lieu of flowers, donations can be made to the Riddle HealthCare Foundation. Checks may be mailed to The Riddle HealthCare Foundation, 1068 W. Baltimore Pike, Media, PA 19063 or online here.