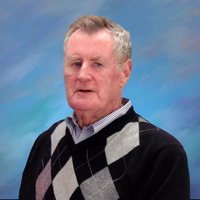 Paul Michael "Mike" O'Neil
Paul "Mike" O'Neil of Glen Mills, PA passed away on February 9th, 2023 at the age of 93. He was born and raised in Worcester, MA and graduated from Worchester Polytechnical Institute with a degree in Chemical Engineering. He served as an officer in the Marine Corp during the Korean War. He worked as an engineer and a manager for Dupont for 40 years.
His lifelong passion was home improvement and in addition to helping family and friends with various projects, he volunteered at Habitat for Humanity. He was an active member of Saint Cornelius Catholic Church.
Mike is preceded in death by his son, Sean (Karyn) O'Neil and his 7 brothers and sisters. He is survived by his wife of 66 years, Pat Moriarty O'Neil, 5 children: Kevin O'Neil (Debbie), Marypat Tang (Chaucer), Mary Elizabeth Davis (Harry), Brian O'Neil, and Mary Jean O'Neil, 12 grandchildren, and 9 great grandchildren.
A visitation for Mike will be held on Monday, February 20th, 2023 at St. Cornelius Catholic Church in Chadds Ford, PA from 9-10AM followed immediately by a Funeral Mass at 10AM. Interment will follow at St. Joseph on the Brandywine, Greenville, DE. In lieu of flowers, please donate to the St. Cornelius Parish Fund (Chadds Ford, PA) at thecfgp.org/donate/st-cornelius-chadds-ford-parish-fund. Online condolences may be made by visiting www.paganofuneralhome.com.