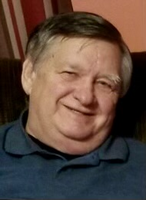 Francis M. "Fran" Matys
Francis "Fran" M. Matys, age 76 of Upper Chichester, PA, passed away on March 9, 2022 at Chester Crozer Medical Center. Born in Chester, PA, yet Fran was a lifelong resident of Upper Chichester. He graduated from Chichester High School's Class of 1963. Afterwards, Fran earned his Associates Degree from RETS Electronic School Class of 1965. Fran was owner and operator of Audio Visual Communications, Inc. for over 40 years, and retired in 2020. He was passionate about A.V. work and took great pride in his company. He was a lifelong member of Delaware County Field and Stream where he enjoyed archery. He enjoyed fishing and hunting with his dad, brothers, sons, and grandchildren. As an animal lover, he raised prize winning Brittany Spaniels and Beagles. Fran also enjoyed gardening for which anyone who knew him was well aware of his infamous tomato and pepper plants.
He was beyond proud, supportive, and showed unconditional love for his many, many grandchildren. Fran also enjoyed the music of the historic Matys Brothers Polish Band. In his younger years, he enjoyed traveling for his sons' athletic events such as including BMX bike racing and swim meets. Fran was obsessed with the TV show series, Heartland. Fran was extremely friendly, outgoing, and loved to strike up a conversation with just about anyone.
However, nothing outweighed his passion to joke and tease his friends and family. He is preceded in death by his parents, Walter Eugene and Mary Sigda Matys. Fran is survived by his loving wife of 54 years, Joan L. Brown Matys, 5 sons: Brian (Katie) Matys, Chad Matys, Justin (Jill) Matys, Matt (Jackie) Matys and John (Farahlee) McCracken, 2 brothers: Bob (Vicki) Matys and Moe (Marie) Matys, 14 grandchildren and 2 great-grandchildren. A visitation will be held on Monday, March 14th from 11-12PM at the Pagano Funeral Home, 3711 Foulk Rd. Garnet Valley, PA, followed by a funeral liturgy at 12PM. Interment will remain private. Donations in Fran's memory may be made to American Heart Association (www.heart.org) Online condolences may be made by visiting www.paganofuneralhome.com.
Please Click Here to view the Livestream