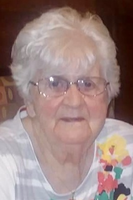 Mary E. Corbit
Mary E. Hickey Corbit, widow of Richard B. Corbit Sr., went home to be with the Lord on Wednesday, January 12, 2022 in Ft. Myers, Florida. She was 90 years old.
Born in Chester, PA., she spent most of her life in Garnet Valley, PA. with her husband Richard of 65 years. She was the daughter of Enos and Jennie E. Hickey and is survived by brothers Jack and Donny Hickey. She was preceded in death by her sister Helen Padgett.
Mary loved all animals but especially cats. She was also the biggest Philadelphia Flyers and Eagles fan. Her family knew not to call her during a flyers game. Booth's Corner Farmers Market also held a special place in her heart, with memories of the bench Mary and her husband sat on every weekend chatting with their friends.
She was very proud of her roots and had a very distinct DELCO personality that all who knew her enjoyed. She was known for her wonderful memory and wit and always kept her family on their toes.
Her family was everything to Mary. She is survived by her two sons, Richard B. Corbit, Jr., Ronald Corbit, two daughters, Pamela Corbit and Catherine Corbit Parker. Also survived by six grandchildren and nine great-grandchildren.
Mary was a faithful member of the Union Gospel Missionary Church in Marcus Hook, Pa until she moved to Florida ten years ago to live with her daughter Pam.
The Funeral Service will be held at Pagano Funeral Home, 3711 Foulk Road., Garnet Valley, PA on Thursday, January 20, 2022 at 11:00 A.M. Friends may call from 10:00 A.M. to 11:00 A.M. Interment, Lawn Croft Cemetery, Linwood, PA. Online condolences may be made by visiting www.paganofuneralhome.com.