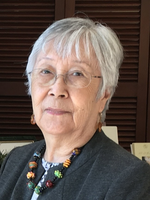 Mutsuko Fukunaga
Mutsuko Fujita Fukunaga, 91, passed peacefully at home in Maris Grove on Monday, January 10, 2022, surrounded by her loving family. She is survived by her husband of 65 years, Tadamichi Fukunaga, daughter Junko (Mark Leonard) of New Castle, DE; daughter Kayko Distler (James) and granddaughter Emiko of Orlando, FL. Mutsuko was born in Tokyo on September 6, 1930 as the first child to the late Tsuneaki and Kiyoko Fujita. She had three brothers, a sister, stepsister and stepbrother.
Mutsuko went to Keisen Christian Junior College in Tokyo and taught English after graduation. In 1955, she graduated from Northern Michigan College, then went to graduate school at the Ohio State University where she met Tada and Junko was born. They subsequently moved to Cambridge, MA and then to Wilmington, DE in 1962 where Kayko was born. The family spent a brief time in Tokyo and came back to Wilmington where they spent the majority of their years. Mutsuko and Tada recently moved to Maris Grove in Glen Mills, PA.
Mutsuko was active in the DuPont Country Club as an avid tennis player and served as a professional tennis umpire in various tournaments including many US Opens and the Los Angeles Olympics in 1984. She also worked as a travel agent at Red Carpet Travel Agency. She enjoyed traveling with her husband and family and covered over 50 countries and all 7 continents. She was a lover of the fine arts, classical music, ballet, singing, painting and ikebana. She was an excellent seamstress, creating most of her own wardrobe; and cook, hosting many Japanese meals for her family and friends. Mutsuko will be deeply missed by those who loved her.
The family would like to thank our lifelong friends for their love and friendship. She cherished the memories of her times spent with them playing tennis/croquet, hosting/attending dinner parties and traveling. The family would also like to thank the Wilmington Hospital and its Rehabilitation Group, Maris Grove support team, Bayada Home Health, and Willow Tree Hospice for their care and support. Honoring her wishes there will be no memorial in the Covid surroundings. In lieu of flowers, memorial contributions in Mutsuko's name may be made to a fine arts organization of your choice. Online condolences may be made by visiting www.paganofuneralhome.com.