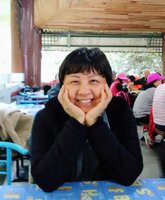 Aiping "Amy" Wu
Aiping "Amy" Wu, aged 57, passed peacefully in her sleep on November 30, 2021 at ChristianaCare Hospital in Delaware after a ten year battle with breast cancer. She was born and raised in Hengyang, Hunan Province in China. She went to Changsha for technical school where she met her future husband at the age of 14. Together they went to Jingdezhen Ceramic College where they each majored in production ceramics. Later Aiping went on to graduate school in South China University of Technology after she married Xiaoming Gao. She excelled in her studies and was always in the top 1% of her class from elementary school to grad school.

In 1992, Aiping was accepted to study analytical chemistry at West Kentucky University. Aiping lived across the United States, from her start in Kentucky to Tennessee, Mississippi, San Diego, New York City, New Jersey, Philadelphia, and ultimately Delaware where she spent the last two years of her life.

Aiping was endlessly passionate about her volunteer work for Falun Dafa, her spiritual meditation practice which has been banned in China since 1999. Her commitment to raising awareness of the persecution led her into various creative fields, including the performing arts, media and marketing.

She will be remembered for her selflessness, indomitable spirit, voracious appetite, love of natural beauty, and her ability to face the obstacles of her life with grace and dignity.

Aiping is survived by her husband of 34 years, Xiaoming Gao, her daughter, Cayla Gao (who shares her passion for food), her sister, Jianping Wu, and her brother, Weiping Wu. Funeral services and the burial in Rural Valley Cemetery in New York will remain private. However, the funeral service will be Livestreamed on Sun, December 5, at 10:00AM. To leave online condolences, please visit www.paganofuneralhome.com.
To view the Livestream of the funeral service, please CLICK HERE or view the video below on Sun, Dec. 5 at precisley 10:00AM.
二零二一年十一月三十日下午三点十分,武爱平因乳腺癌复发安祥仙逝于ChristianaCare Hospital in Delaware. 终年五十七岁。
武爱平于一九六四年三月一日生于湖南衡阳市。初中毕业后就读于湖南省轻工业专科学校。毕业后留校。后又去景德镇陶瓷学院进修。回湖南省轻工业专科学校教书。再就读于华南理工大学获得研究生文凭。
一九八七年七月十日武爱平与高小明结为夫妻相伴至今。
一九九二年,爱平远赴美国留学。就读于 West Kentucky University 分析化学专业。后在大学和制药公司工作。曾在肯塔基, 田纳西, 密西西比,圣地亚哥, 纽約市, 新泽西, 费城和特拉华居住过。
爱平自二零零四年起就一直做义工。努力讲清中国大陆对法轮功迫害的真相。她曾在媒体,艺术团,神韵推广工作。
爱平的大公无私,勤劳勇敢,真诚待人和对真理的坚持将永远被我们铭记。
爱平与她先生高小明结婚三十四年。育有一个女儿名叫高兴。她还有姐姐武建平和哥哥武卫平生活在中国大陆。