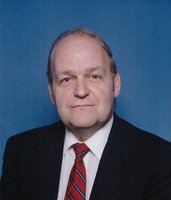 Rev. Robin John Hevalow
Rev. Robin John Hevalow, age 80, of Trainer, PA passed away quietly at home on Saturday, April 3, 2021. He was born in Cetronia, PA and raised in the Allentown, PA area. The son of Harvey and Ida Mae Hevalow, Robin John was a graduate of Allentown High School and attended the former Allentown United Wesleyan College. Robin John served as a Pastor for over 60 years, retiring in December 2020, and served churches in Sunbury, PA, Coopersburg, PA, Marcus Hook, PA, Chesapeake City, MD, Chester, PA, and West Conshohocken, PA. He was, as he said, a "God-taught" (or self-taught with God's inspiration) musician and organist. He loved music, stained glass, plants, flowers, and birds. Robin John loved books and reading. He and his wife, Ruth especially enjoyed their trips to Israel, Rome, Hawaii, Washington, DC, Monticello, and the Skyline Drive in VA. John also liked visiting his cottage at the historical Waldheim Park in Allentown, PA. In addition to his parents, he is preceded in death by his son, Allen Gene Hevalow who passed in infancy, great grandson, Allen Henry who passed in infancy, brother, Beniah Hevalow, and sister, Carol Hevalow who passed in early adolescence. John is survived by his wife of 60 years, Ruth A. Hevalow; his children; Elizabeth (Mark) Groover, Wendy (Frank) Lindsey, Jonathan (Karen) Hevalow, Kathleen (Howard) Rolleston, his nine grandchildren; Cassandra, Ariana, Lauren, Howard John, Connor, Pixie, Eli, James, and Vivian, four great grandchildren; Myles, Remmi, Wesley, and Calvin, two sisters; Janice (Val) Scarcia and Linda Freed. A visitation will be held on Wednesday, April 7,2021 from 10AM -11AM at the Pagano Funeral Home, 3711 Foulk Rd, Garnet Valley, PA followed by a funeral service at 11AM. The funeral service will be LIVESTREAMED. Interment will follow at Lawn Croft Cemetery, Linwood, PA. Online condolences may be made by visiting www.paganofuneralhome.com.
To view the Livestream please Click Here or view the video below on April 7, at 11AM.