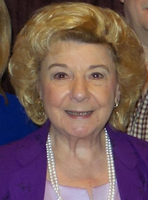 Amelia Grace Pagano
Amelia "Millie" G. Pagano (Ferro), age 85 of Broomall, PA passed away peacefully on April 1, 2021. Born to Frank & Grace Ezzie Ferro, she was raised in Overbrook, PA. Millie graduated from West Catholic Girls High School, class of 1953. She met the true love of her life, Peter Pagano Sr. at the age of 15. They married in 1955 and settled in Broomall, PA. There they started their family in 1958 with the birth of their 1st child, Chuck, and adding to their family with a child in each year thereafter with Karen, then Cheryl and lastly, Peter Jr.. During those years, her husband Pete decided to open their own business known as "The Original House of Pagano's" restaurant in Philadelphia. As a homemaker, Millie adored her 4 children and loved the everyday challenges of raising her 4 children and caring for her home. She was known by all of her children's friends as "The Mom who always cooked". One could never leave Millie's house without a good meal. Millie also, at one time, had a passion for bowling as she belonged to numerous leagues. She also enjoyed her monthly get together with her friends for "Card Night". In her later years, she gained a passion for the casinos, and was known by all of the casino staff by her first name. In addition to her parents, Millie is preceded in death by her beloved husband, Peter B. Pagano Sr. who died in 2017, 3 siblings, Anthony Ferro (1969), Frank "Chick" Ferro (2002) and Marguerite Delciotto (2016). She is survived by her 4 devoted children, Charles Pagano (Donna Reeves), Karen Pagano Cedrone (Christopher Topolski), Cheryl (Robert) Jacobs and Peter (Patricia) Pagano Jr., 12 grandchildren, Vincent (Alyson) Cedrone, Stephanie (Tony) Leonetti, Anthony Cedrone, Brittany & Amanda Pagano, Bobby (Jenn) Jacobs, Andrea & Brian Jacobs, Glenn, Peter III, Renae & Nicholas Pagano and 6 great grandchildren, Nicky, Scarlett, Archer, Amelia, Leo & Naomi. Millie is also survived by In-laws, Alice (Richard) Marella, Jean Pagano, Theodore Pagano (Annemarie Candy), Richard Delciotto and Theresa Ferro as well as an Aunt Doris Stewart and Aunt Gloria Ezzie and a host of cousins, nieces and nephews.
A visitation will be held on (All at Church) Thursday from 9:00 - 10:45AM at St. Cornelius Catholic Church, 160 Ridge Rd., Chadds Ford, PA followed by a Funeral Mass at 11:00AM. The Mass will be Livestreamed.
Interment, S.S. Peter & Paul Garden Mausoleum, Springfield, PA. Online condolences may be made by visiting www.paganofuneralhome.com.
To view the Livestream services, please Click Here or view the video below on Thursday, April 8 at 11AM.