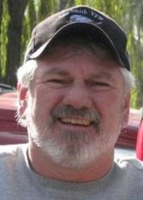 Edmund C. Rumford Jr
Edmund C. Rumford Jr., age 59 of Essington, PA passed away suddenly on March 26, 2021 at Penn Presbyterian Hospital in Philadelphia. Raised in Wilmington, DE, Ed graduated from Delcastle Technical High School in 1979. He has resided the past 27 years in Essington, PA. A Supervisor for TSA at the Philadelphia International Airport for the past 11 years, Ed was previously employed by Southco, Inc.. He was devoted to his country and served in the United States Army during the Persian Gulf War. Ed is a life member and Past Post Commander of the VFW Post 4845. He is a Mason with the Masonic Grand Lodge #436 in Philadelphia. Ed enjoyed family vacations and especially enjoyed time spent traveling in his RV with his wife, children and grandchildren whom he cherished. Ed is survived by his loving wife of 27 years, Dawn Duncan Rumford, 3 cherished daughters, Brenda (Wolfgang) Gelgec, Jessica (Michael) Diienno and Kelli (Butch Wilson) Rumford, his loving parents, Edmund Sr. and Jeannette Carey Rumford, and 5 wonderful grandchildren, Laura Rumford, Michael & Abigail Diienno and Ayla & Cem Gelgec. A visitation will be held on Thursday evening, 6-8PM and Friday morning, 9-10AM at the Pagano Funeral Home, 3711 Foulk Rd. Garnet Valley, PA followed by Funeral Liturgy at 10:00AM. Interment Lawn Croft Garden Mausoleum, Linwood, PA. Donations in his memory may be made to St. Jude Children's Fund (stjude.org). Online condolences may be made by visiting www.paganofuneralhome.com.
To view the Livestream of the service, please click here or view the video below on 4/2/21 at 10AM.