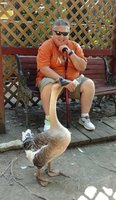 Dawn Elizabeth Winder
Dawn Elizabeth Winder was born at the break of dawn on June 6th 1959, and went to be with the Lord on February 15th 2021. Dawn lived a quiet life, she surrounded herself with her loving family and close friends. The middle child of three, Dawn, who remained childless herself, spent her life dedicated to caring and providing companionship for her mother, Ruth. Dawn, an artist at heart, had an eye for detail, being eclectic and unique, in many aspects of her life. She enjoyed traveling and expanding her view of the world. She had a world of knowledge hidden away as she immersed herself in books and music. She stayed grounded by going to church, routine bible studies, reading her bible, and her daily prayer time.
Dawn was predeceased by her partner James Casey, her father James Winder and her beloved Aunt Win & Uncle Tom. Dawn is survived by her mother Ruth; sister Sandi (Wayne); brother Bill (Sue); cousin Laura (Jim); niece Sara (Joe); nephew Jeff (Kimberly); great nieces and nephews Korie, Callaway, Hailie, JJ & Leo and was looking forward to her unborn niece Madison as well as many other equally as important family members.
Per her wishes, she will be laid to rest privately, and without ceremony, at Lawn Croft Cemetery. In lieu of flowers please make a donation to Rescue Dogs Rock of New Jeresy RDRanimalrescue.org. Online condolences may be made by visiting www.paganofuneralhome.com.