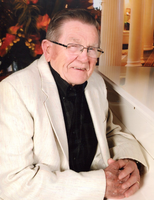 Leonard Anthony Diamond
Leonard A. Diamond, age 94, passed away on February 12, 2021. Born and raised in Chester, PA, Len resided in the Garnet Valley area most of his life. Len is survived by his beloved wife, Josephine Wintarlik Diamond, his children Michael Diamond and Rosemarie Diamond, his sisters Mary Mantegna and Billie Jenkins Taddei and his many nieces and nephews. In addition to his parents William Diamond and Agnes McCue Diamond, Len is predeceased by his sister Jeanne Miller. Len served in the Navy during World War II and worked at Scott Paper Company for over 40 years before retiring in 1989. Len had a passion for baseball and enjoyed summers in Cape May and trips to New York City but most of all Len cherished his large and loving family. We will love, remember and miss him always. A visitation will be held on Monday, February 22, 2021 from 10-11AM at the Pagano Funeral Home, 3711 Foulk Rd., Garnet Valley, PA followed by a Funeral Liturgy at 11:00AM. Interment, private. Online condolences may be made at the funeral home website as well.
To view the Livestreaming Liturgy for Leonard A. Diamond, please refresh your screen or click here precisely at 11AM on Monday.