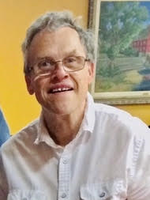 James A. McShane III
James Andrew McShane III, Age 64, of Glen, Mills PA, passed away peacefully in the night on Saturday June 20, 2020. He was born in Philadelphia, PA on 7/30/1955 and graduated from William Tennant High School in Warminster, PA.
Jimmy lived and worked over 30+ years in Warminster, PA and Ocean County, NJ taking care of others. He loved walking along the seashore and his many hobbies including music, drag racing, and wrestling. He retired to Glen Mills, PA and enjoyed socializing with his many friends, nieces, and nephews who all loved his positive personality and energy. He is survived by his five loving brothers and sisters who will miss his smile and big heart each and everyday.
Private funeral arrangements will be held on June 24 at Pagano Funeral Home. Online condolences may be made by visiting www.paganofuneralhome.com.
To view Livestreaming services for James Andrew McShane III, Please click here Wednesday, 1:45PM or view the video below.