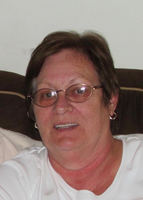 Linda Mae Chamberlain
Linda Mae Chamberlain, age 73 of Linwood, PA passed on May 19, 2020 at Crozer Chester Medical Center. Born in Chester, PA, Linda was raised in Chester and Upper Chichester, PA. She resided for the past 36 years in Linwood, PA. A homemaker, Linda graduated from Chichester High School class of 1964. She enjoyed spending time with her family especially her great grandchildren. Linda is preceded in death by her parents, Clarence O. and Stanley Mae Greene Walker. She is survived by her husband of 52 years, Alfred W. Chamberlain, 3 children, Amanda (Paul) Gallagher, Al (Norma) Chamberlain and Melissa Chamberlain, 2 sisters, Patricia (Late Bruce) Braughton and Barbara (Ray) Livesey, 6 grandchildren, Paulie, Ashley, Erika, Taylor, Sarah and Kyle, 4 great grandchildren along with several nieces and nephews. Donations in her memory may be made to Diabetes Association (www.diabetes.org).
A public Drive-Thru visitation will be held for all on May 26, 2020 Tuesday 10:00-10:45AM at the Pagano Funeral Home, 3711 Foulk Road, Garnet Valley, PA. Due to the Covid 19 Pandemic, family, friends and relatives will be asked to form a Drive-Thru receiving line at 10:00Am-10:45AM in the Parking Lot at the funeral home.
A Private Funeral Service will be LIVESTREAMED for Linda by visiting (www.paganofuneralhome.com) or via Facebook (search Pagano Funeral Home) which will begin precisely at 11:00AM on Tuesday. Interment will remain private. Online condolences may be made by visiting www.paganofuneralhome.com
Click here to view Livestream for Linda Mae Chamberlain on Tuesday, 11AM at the Pagano Funeral Home