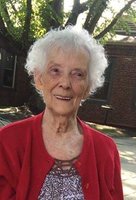 Kathryn "Kitty" D. Loveland
Kathryn "Kitty" D. Loveland, age 88, of Chester, PA passed away peacefully on May 16, 2020 at Fair Acres Geriatric Center. Kitty was born in Wilmington, DE to the late Walter E. and Marian Todd Parker, Jr.. She has resided the past 5 years in Fair Acres, previously residing in Park View at Naamans Creek since 1998 & Upper Chichester, PA where she raised her children. Kitty was employed by Pathmark in Brookhaven for 20 years retiring in 1982. Kitty had a love for spending time with family and friends. She especially enjoyed playing poker and family gatherings. In addition to her parents, she is preceded in death by 7 siblings, Margaret Williams, Elizabeth Smith, Donald Parker, Louise Nickerson, Harry Todd Parker, Richard Parker & Virginia Dilon. Kitty is survived by 2 children, Jack Bledsoe, Jr. And wife Mary & Jill Bledsoe, 2 siblings, Walter E. "Buzz" Parker & Marilyn Sbandi, 4 grandchildren, Christopher Bledsoe, Shannon Bledsoe, Rebecca Bledsoe & Tyler D'Angelo and 2 great grandchildren, Ayden & Colton "Ace".
A public Drive-Thru visitation will be held for all on Thursday 10:00-10:45AM at the Pagano Funeral Home, 3711 Foulk Road, Garnet Valley, PA. Due to the Covid 19 Pandemic, family, friends and relatives will be asked to form a Drive-Thru receiving line in the Parking Lot at the funeral home beginning at 10AM.
A Private Funeral Service will be LIVESTREAMED for Kitty by visiting (www.paganofuneralhome.com) or via Facebook (search Pagano Funeral Home) which will begin precisely at 11:00AM. Interment will remain private at Lawn Croft Cemetery, Linwood, PA. Online condolences may be made by visiting www.paganofuneralhome.com
Click Here or view below, May 21, 2020, Thursday, 11:00AM to view the LIVESTREAM Services for Kitty Loveland from the Pagano Funeral Home