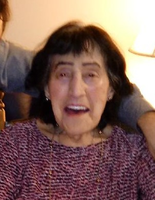 Elizabeth Capatasto
Elizabeth Capatasto, age 92 of Exton, PA passed away on March 19, 2020 at Naamans Creek Country Manor. Born to Anthony & Maria (nee Fabrizio) Capatasto in Brooklyn, NY, Elizabeth was a longtime resident of Brooklyn, New York before relocating in Exton, PA at the Bernard Hankin Building at Eagleview. In addition to raising her daughter and caring for her home, Elizabeth was also a Jewelry maker. In her spare time, she enjoyed playing Bingo and also enjoyed cooking, she was known by her friends and neighbors as "Lasagna Liz". In addition to her parents, she is preceded in death by 8 siblings. Elizabeth is survived by a daughter, Elizabeth Taparata and her husband Frank; 2 grandchildren, Karisa (nee Taparata) Reinhart and her husband Russ, and Evan Taparata; 2 great grandchildren, Sawyer & Luke Reinhart; and 2 brothers, Salvatore Capatasto & George Capatasto. Elizabeth was the beloved aunt of James Holmes, Rosemary Caratozzola, Donna Ruben, Nancy Pickering and Joseph, Ronald, Edward and Vincent Capatasto.
A visitation will be held on March 25, 2020, Wednesday, 8:30-10:00AM at the Pagano Funeral Home, 3711 Foulk Rd. Garnet Valley, PA followed by a Funeral Mass at St. Elizabeth's Catholic Church, 120 St. Elizabeth Dr., Chester Springs, PA at 11:00AM. (LIVESTREAMING WILL BEGIN AT 11:00AM), Please visit www.paganofuneralhome.com or connect via Facebook (search Pagano Funeral Home). Interment, St. Agnes Cemetery, West Chester, PA. Online condolences may be made by visiting www.paganofuneralhome.com.
In lieu of flowers, donations in Elizabeth's name may be made to the Shriners Hospital, St. Jude Children's Hospital or the ASPCA.
Elizabeth's Livestream Mass will begin at 11:00AM. Click Here!