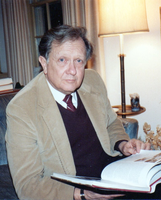 Robert "Ned" E. Corbett
Robert "Ned" Corbett, age 90, passed away suddenly on April 12, 2018 in his home surrounded by his loving family. He was a lifelong resident of Ogden PA born in the family home on Naaman's Creek Road on January 26, 1928. Ned was predeceased by his parents Claude and Mary Corbett. He graduated from Boothwyn High School in 1945 and immediately enlisted in the Navy. He was still in boot camp when WWII ended. He served honorably as Quartermaster on the U.S.S. Elokomin. Following his military service, Ned attended Penn State University graduating with a degree in Electrical Engineering. After college Ned returned to Ogden to build the cherished family home. For much of his life, Ned owned and operated the family business, Corbett Electric. Later he worked for Betzwood Associates on special projects until he was in his mid 80s.
Ned was an active member of the community being a member of various organizations including the Upper Chichester Rotary Club and Concord Masonic Lodge #625. He was a lifelong member of the Ogden Fire Company having served as Recording Secretary, assistant Engineer, Chief Engineer and President. Ned was a past president of the Delaware County Aviation Association. He served on the Upper Chichester Township Planning Commission for 20 years and as Chairman for 17 years. He also served on the Upper Chichester Board of Commissioners. Due to his lifelong commitment to the community Corbett Drive a street in Upper Chichester was named in his honor.
Ned's greatest accomplishment in life was his family. Besides Ned's love and devotion to family, his biggest passion in life was flying. He obtained his private pilot license with multi-engine and instrument rating and was the proud owner of a Cessna 182 for several years. Ned enjoyed sharing his enthusiasm for flying by happily giving friends and family rides in his plane; often introducing people to the joys of flying for the first time.
"What's a life worth living if it isn't spent helping other people", was a motto Ned lived by.
In addition to his parents, he is preceded in death by his brother, Claude Corbett Jr. and a sister, Edna Houck. He is survived by his wife of 64 years, Anna M. Mayer Corbett, 4 children, Lois (Andy Meanor) Helmerson, Lynn Corbett Brown, June Parsons and Robert Corbett, a sister, Alice Faulkner, 8 grandchildren and 4 great grandchildren. A visitation will be held on Tuesday, April 17, 2018 from 10-11AM followed by a Memorial Service at 11:00AM at the Pagano Funeral Home, 3711 Foulk Rd., Garnet Valley, PA. Interment will remain private.