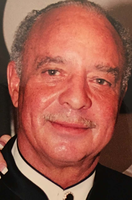 Larry L. Ferguson
Larry L. Ferguson, age 76, of Springfield Twp., died December 2, 2017
surrounded by his family. Born in Pittsburgh, Pa., Larry attended Carnegie schools before moving to Delaware County. He soon found work and had many jobs retiring from Sun Oil as a Teamster. Larry was devoted to his family, he enjoyed listening to country and r&b music, was an avid car enthusiast, loved playing cards and traveling. He collected coins and die cast cars and trucks. In his spare time he loved entertaining at his home and sharing his traveling stories.
Predeceased by his parents James R. and Helen (nee Mills) Ferguson, wife, Sally A (nee Durham) Ferguson,
and siblings Floyd, Sherdena, Gerald, and Jerome Ferguson.
Survived by his Sons Lawrence A., and Douglas A. (Patricia)
Ferguson. Daughter Allisa A. (Howard J.) Dyitt.
Grandchildren Rachael Marie, Nicholas Edward, and James A. Farry
Sandra J., Nicole A., and Jesse N. Monastra, Douglas R. Ferguson,
Donovan J., Dylan N., and Samantha A. Dyitt. Also survived by many Nieces and Nephews.
Relatives and Friends are invited to a visitation on Thursday December
7, 2017 from 9-10am followed by a memorial service at 10am.
Interment in Rolling Green Cemetery, West Chester, PA