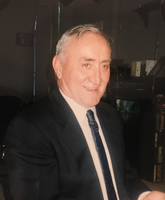 Lucian E. Evans
Lucian E. Evans, Jr. age 69, of Upland, Pa., died December 2, 2017,
in Crozer Chester Medical Center.
Born in Drennen, WV, to the late Lucian E. Sr., and Agnes (nee Woodruff).
Lucian graduated from South Philadelphia High School and enlisted in the Navy , served in Vietnam and was honorably Discharged. He Graduated in 1999 from the Pennsylvania Institute of Technology with an Associate Degree in Business. He was a machinist for many years before
retiring from Thyssenkrupp Materials in Swedesboro, NJ as their Branch Coordinator.
Lucian enjoyed movies and music and most important his family and his cats .
Survived by his wife of 46 years Aronis (nee Sullivan) Evans of Upland.
Daughter Venus Barr (Charles).
Relatives and friends are invited to a visitation, Wednesday, December 6,
from 9-10 am in the Pagano Funeral Home 3711 Foulk Road, Garnet Valley,
Pa. 19060.
Contributions to Delco Dawgs: https://delcodawgs.org