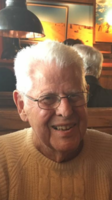 Larry L. Marsden
Larry Marsden, age 83, of Cherry Hill, NJ died on July 20, 2017 at Virtua Marlton Hospital.
Larry was born and raised in Johnstown, PA to the late Kathryn (Mangus) and Lawrence Marsden. Larry resided the past five years in Cherry Hill, NJ. Previously, he was a resident of Wilmington, DE for 53 years. After serving in the United States Army, Larry married, began a family, and graduated from Indiana University of Pennsylvania with a Bachelor's of Science in Mathematics degree. He enjoyed a long career in the steel industry, management consulting, and information technology recruitment. He retired to found Hands on Homes, a nonprofit organization whose mission is to help those in need keep their homes "warmer, dryer, safer." He was a member of Bethlehem United Methodist Church.
A devoted son, husband, father, and grandfather, Larry was preceded in death by his parents and his loving wife of 62 years, Barbara (nee Bartoloma). He is survived by three daughters, Pamela (Paul) Mezzatesta, Patricia (Drew) Markoe, and Christine Marsden, and three loving grandchildren, Lauren Markoe, Steven Markoe, and Jenna Sakowski. He was affectionately known to his grandchildren as "Doobie".
Relatives and friends are invited to his viewing , Wednesday, July 26, 2017 from 10:00 – 11:00 a.m. at Bethlehem United Methodist Church, 4 Westtown Road, Thornton, PA 19373 followed by services at 11:00 a.m. Interment will follow in the church cemetery.
In lieu of flowers, the family suggests donations in his memory be made to Hands on Homes, Bethlehem United Methodist Church, 4 Westtown Road, Thornton, PA 19373. Arr: Pagano Funeral Home, Garnet Valley, PA. Online condolences may be made by visiting www.paganofuneralhome.com.