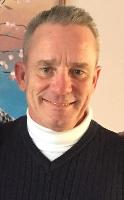 John F. Murtaugh
John F. Murtaugh, age 55, of Garnet Valley, PA, passed away on Sunday, April 30, 2017 at home. John was a self-employed auto salesman in his family business, Suburban Auto Sales, for most of his life. John was an avid golfer who belonged to the DuPont Country Club. John had a strong faith in God, and was a parishioner of the St. Thomas the Apostle Church, Glen Mills, PA. There was nothing in life that he enjoyed more than spending time with his family and granddaughters.
John is preceded in death by his father John M. Murtaugh, and brother Robert Murtaugh.
John is survived and missed by his wife Laura (Zepp) Murtaugh of 32 years, mother Joanne Murtaugh, daughter Amanda Cassidy (Jason), son Jay Murtaugh, two granddaughters; McKenna and Addison Cassidy, one brother Mick (Nadine) Murtaugh, and many nephews and nieces.
Relatives and friends are invited to attend his viewing Wednesday evening, 7-9PM at the Pagano Funeral Home, 3711 Foulk Rd, Garnet Valley, PA 19060, and again Thursday morning 9:15-10:15AM, followed by a Mass of Christian Burial at 10:30AM at St. Thomas the Apostle Church (NEW CHURCH 430 Valleybrook Rd, Glen Mills, PA). Burial S.S. Peter and Paul Cemetery, Springfield, PA.
In lieu of flowers, a contribution can be made to St. Thomas the Apostle Church, 430 Valleybrook Rd., Glen Mills, PA 19342.